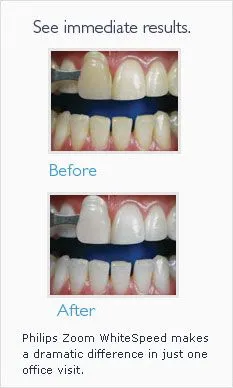 Over four million smiles are whiter, brighter and more confident thanks to Philips Zoom, #1 patient-requested professional teeth whitening brand. Philips Zoom NiteWhite and DayWhite deliver the superior, professional results you want from the convenience of your own home.

Philips Zoom WhiteSpeed
Philips Zoom WhiteSpeed is a scientifically advanced teeth whitening procedure applied chairside at your dentist's office. It's ideal for anyone looking for immediate results, and now with the most advanced LED whitening technology from Philips, the results are even better than ever.
Philips Zoom NiteWhite and DayWhite
Philips Zoom NiteWhite and DayWhite deliver the superior results you want under the supervision of a dental professional. Whether you prefer to whiten while you sleep or the convenience of short daytime sessions, achieve your whitest smile in just one to two weeks.
About Teeth Whitening
Teeth whitening has a long history and has evolved into one of the most popular aesthetic dental treatments available. From "chew sticks" made from twigs dating back to 3000 B.C. to today's use of various forms of peroxide to safely whiten teeth, the quest for "pearly whites" threads throughout the history of oral health.
The science has come far. Today, in one brief, light-accelerated treatment of Philips Zoom, patients will enjoy immediate results. And it's entirely worry-free. Years of extensive research and clinical studies confirm that teeth whitening under the supervision of a dental professional is safe. In fact, many dental professionals consider teeth whitening the safest cosmetic procedure available.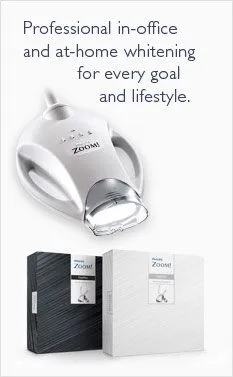 Consult a Dental Professional
Almost anyone can benefit from teeth whitening. Of course, there are many reasons for discoloration and not everyone will experience the same results. That's why it's important to involve a dental professional. There are many factors that play into what kind of whitening is right for you, and a dental professional will help you get the best results possible.
Options for Teeth Whitening
There are three common categories of teeth whitening:
Professionally Applied Teeth Whitening:
Any whitening procedure performed within a dental office, under the direction and care of a dental professional, such as Philips Zoom WhiteSpeed.
Professionally Prescribed Whitening:
Any whitening material dispensed by a dental professional for a patient to use at home either as their main whitening treatment or for maintenance after an in-office whitening treatment, such as Philips Zoom NiteWhite and DayWhite.
Over the Counter:
Any whitening material available to purchase for home use without seeing a dental professional, such as those available at drug stores and supermarkets, which include whitening toothpastes, rinses, gels, and strips.