Crowns Salt Lake City, UT
Sometimes a dentist has to take out large parts of a tooth because of tooth decay. Sometimes a patient's teeth have become discolored. In cases like this, dentists use crowns to help the tooth look and function normally. Dentists also use crowns to attach bridges, to cover a tooth implant or stabilize a cracked tooth , or to keep an existing filling solidly in place.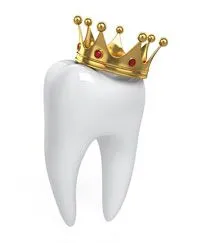 Crowns are thin coverings that are designed to look like the tooth's original enamel. The porcelain-like material covers the entire tooth above the gum. Usually, the dentist has to reduce the size of the tooth to be covered, then make an impression and a cast. A special lab uses the cast as the model for the actual crown. Sometimes the dentist will apply a temporary crown before the permanent crown is ready and can be cemented into place.
With good oral hygiene, especially flossing to remove debris and excess plaque, your crown will probably last eight years or more. To help the crown last as long as possible, it is also important not put stress on the crown through actions such as clenching your jaw, grinding your teeth, or eating anything (for example, brittle foods, ice, or hard candy) that might break the crown's cement bond or damage the crown itself.
For more information on Crowns in Salt Lake City, UT call David P. Blanco, D.D.S. at (801) 969-1802 today!
Other info you may find useful.