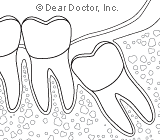 Of all the teeth in the mouth, the ones receiving the most discussion and controversy would have to be the wisdom teeth or third molars. And this is not just a recent phenomenon, as people have been discussing them for centuries! See how much you really know about wisdom teeth by taking our quick and easy true/false self test.
Third molars received their name, "wisdom teeth," because a moderate amount of wisdom is supposedly achieved in life about the time they appear.
True or False
Wisdom teeth and all of their associated problems are commonplace in the practice of dentistry.
True or False
Because wisdom teeth are so unpredictable, they typically make their appearance between the ages of 17 and 25.
True or False
The most common consequence of impacted wisdom teeth is gum (periodontal) disease.
True or False
If wisdom teeth are not removed, they will become impacted or cause crowding. This is why so many people require orthodontic treatment (braces).
True or False
While most people have four wisdom teeth, having more (supernumerary teeth) or less (hypodontia) is possible.
True or False
Through dental x-rays and routine check-ups, we can predict the timing and way in which wisdom teeth become visible (erupt).
True or False
An impacted wisdom tooth, by definition, is a third molar that is colliding with or jammed against another important structure, such as an adjacent tooth, the gums or other important soft tissues in the mouth, or nerves and blood vessels.
True or False
The primary symptom for indicating you have an impacted wisdom tooth is pain.
True or False
If wisdom teeth need to be removed, it is best to remove them at a younger age rather than waiting until periodontal disease has started.
True or False
Answers: 1) True. 2) True. 3) True. 4) True. 5) False. While wisdom teeth can be a factor in crowding, some people have no issues with these teeth. For them, they grow into proper position and are healthy teeth. 6) True. 7) False. Unfortunately, it is not possible to predict the way wisdom teeth will erupt. 8) True. 9) False. In some scenarios, impacted wisdom may cause no pain. 10) True.
To learn more about wisdom teeth and in particular, impacted wisdom teeth, continue reading the Dear Doctor magazine article "Wisdom Teeth." Or you can contact us today to schedule an appointment to discuss your questions.