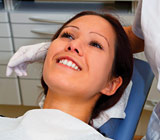 When it comes to patient comfort, one of the most important developments of the 21st century has been sedation dentistry, which enables you to relax in both mind and body allowing you to focus on feeling peaceful rather than anxious. And the prescription medications we use are some of the safest on the "therapeutic index" (the scale pharmacists and health professionals use to measure the safety of medications.) However, it is critical that we are aware of any medications you are already taking and your medical health and history, so let us know all about you so that we can avoid adverse (negative) reactions. Please note that we will take a full history to gain this information prior to any treatment or sedation — our utmost concern is your safety. During this time, it is vital that you are honest and feel comfortable sharing your responses to our questions. It's also our way of getting to know you and the first stage in relieving your anxiety. We will need to know all about:
All medical conditions for which you are currently being treated.
All prescription medications you are taking.
Over-the-counter (OTC) medications, remedies, or vitamins and/or supplements you are taking. This even includes aspirin, St. John's Wort, and Kava Kava. (Why? If taken daily for good heart health, aspirin thins your blood and thus may interfere with blood coagulation. And St. John's Wort and Kava Kava may be beneficial in helping relieve depression, but they can negatively impact how oral sedation medications work.)
Foods and drinks you consume, such as alcohol and even grapefruit (juice or the fruit), can negatively impact how your body responds to both your treatment and sedation medications.
And lastly, we need to know if you are a tobacco user — especially if you are a smoker. In addition to increasing your risks for oral and other cancers, tobacco can negatively influence the effectiveness of sedation medications.
To learn more about this topic, read the article "Oral Sedation Dentistry." Or you can contact us today to discuss your questions or to schedule an appointment.