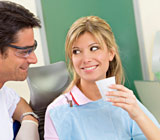 Three quarters of people surveyed have admitted to having some fear about going to the dentist. About 10% to 15% are so afraid that they never go. Because they put off checkups and treatment they end up with toothaches, infections, and even lost teeth.
You should know that even those who are most afraid of the dentist can learn to reduce their fear and have dental treatment in comfort.
How does fear of the dentist get started?
Fear is learned behavior. People may learn it from stories they have heard from their parents or others, or they may learn it first hand by having a bad dental experience. Once the fear is planted, they avoid going to the dentist, so there is no way for them to learn that a visit can be a positive experience.
If you are among those who fear going to the dentist, the fearful feelings you have can be enough to reinforce themselves. Sweaty palms, rapid heartbeat, and a queasy stomach are not pleasant, and if you experience such feelings they may be your main memories after an appointment, even if the visit was not frightening in itself.
Dental fear can be a subconscious automatic response. This means that you can't control it and make it go away. But there are things you can do to reduce your fear and feel comfortable during your appointment.
Move slowly and get help to conquer your fears.
You need to have new, positive experiences to counteract the bad experiences you had in the past. Realize that you are not alone, many people share this fear. Then talk about your fears with our office. We will start by doing things that cause only mild or no anxiety. You want each visit to be a good experience, so you are able to leave our office with a feeling that this was okay, and you can do it again. It may take a while to train yourself to get over your fears, but we have helped many people accomplish this — and you can, too.
Contact us today to schedule an appointment to discuss your questions about any fears you may have. You can also learn more by reading the Dear Doctor magazine article "Overcoming Dental Fear & Anxiety."